Testimonials-Choose Pangburn
By Xander Kane
"Pangburn was more like coming home for me. I was welcomed as though I have always been a part of this school and community. My teachers made me feel that I was worth their time and have pushed me to become a better version of myself. For me, the transition to a new school is not exactly easy, but they made that transition easy for a kid just trying to find their place."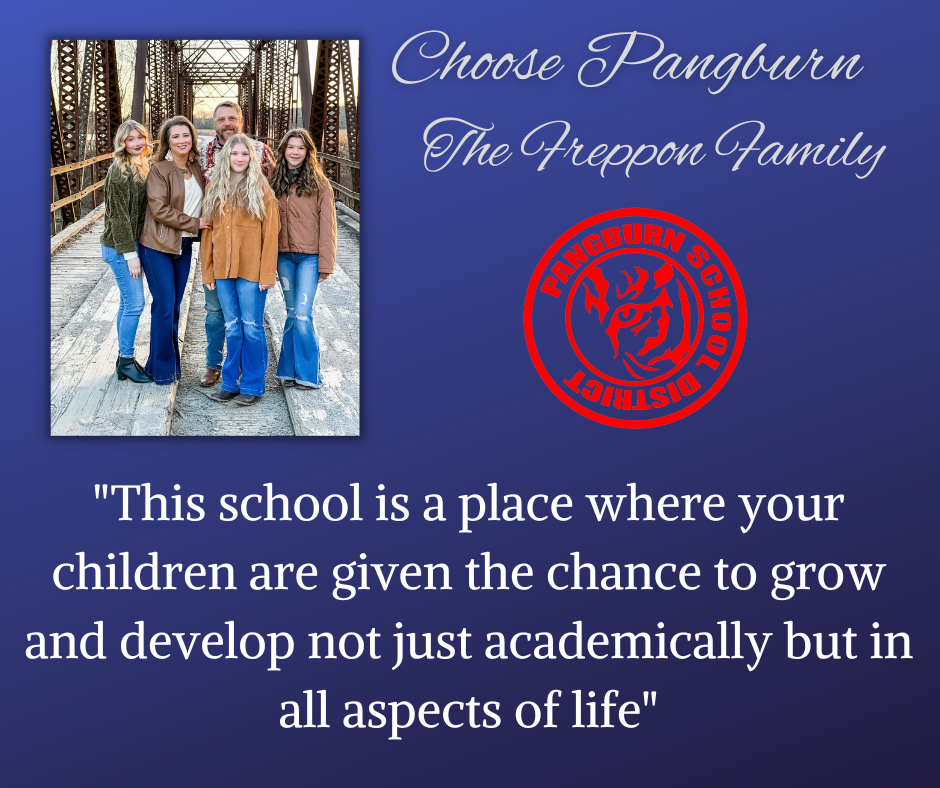 By Aimee Freppon
"Choosing to be a part of Pangburn School District was by far one of the best decisions we have made. Pangburn school allows opportunities to improve educational outcomes by giving students access to enhance that child's specific learning ability. This school is a place where your children are given the chance to grow and develop not just academically but in all aspects of life. "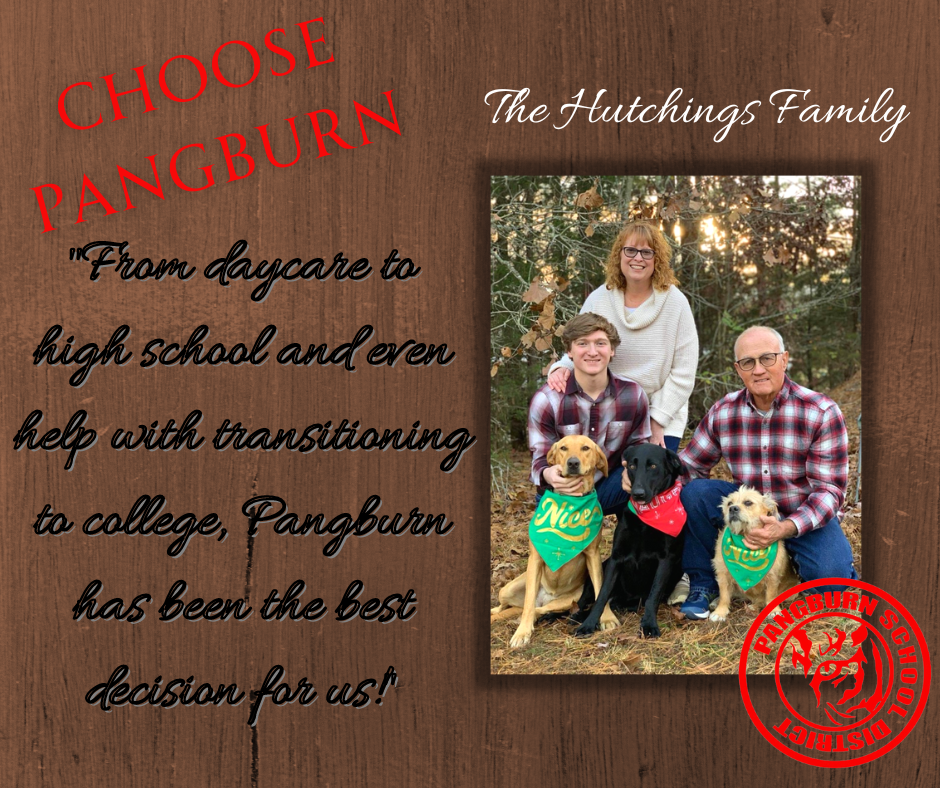 By: Jennifer Hutchings
"Pangburn has been a blessing to us! We are in another district but I'm so glad we chose to come here! I would recommend our pre-k to anyone!! Elementary was the best ever. Brison's teachers challenged him and developed a love of reading and math early on. Every single teacher has been kind, caring, and pushed Brison to want to learn. Brison has had so many opportunities here that I don't see him having at a larger school. From community service opportunities to clubs like FBLA, there have been so many options for extracurricular activities. All the coaches have been awesome to provide great examples and to push their athletes to succeed. Coach Crisp and Coach Butler have provided great examples for these young baseball players on life and the game. I am so grateful for these gentlemen. Brison has been very blessed to have Wade Butler as his advisor. Mr. Butler has offered him support, friendship, and real advice to help him stay grounded. From daycare to high school and even help with transitioning to college, Pangburn has been the best decision for us!"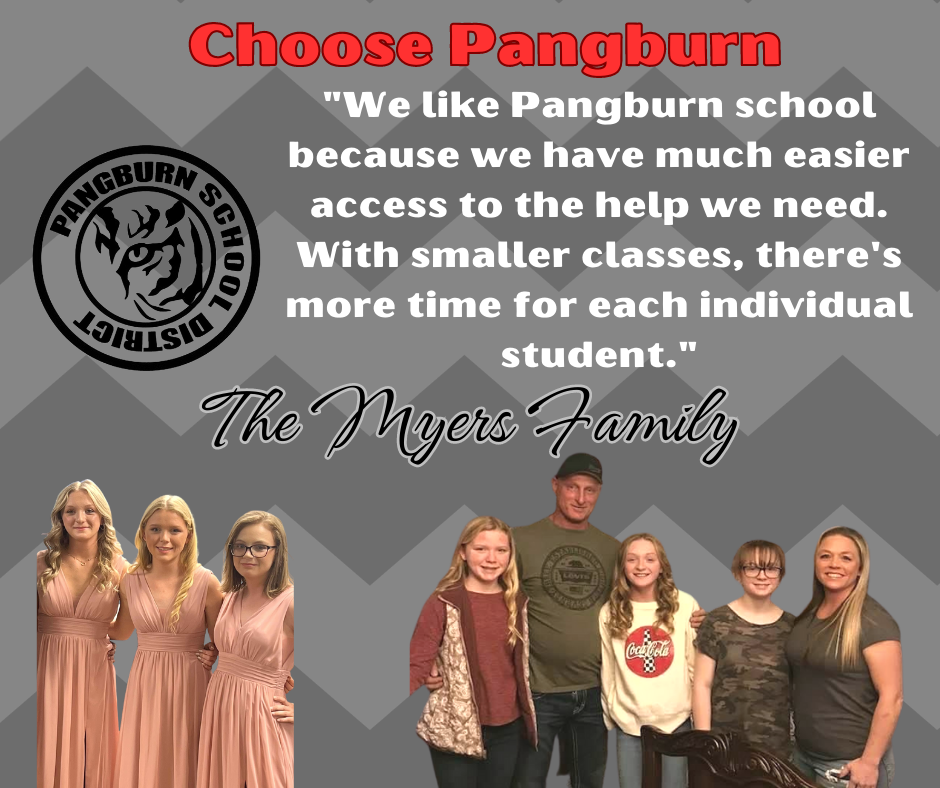 From the Myers Family
We like Pangburn school because we have much easier access to the help we need. With smaller classes, there's more time for each individual student. It's very easy to talk to a teacher when there isn't a line of people waiting. Another reason is because the teachers are invested in students learning and not just grades. We know that if we have a problem, we can talk to the teachers and they truly care about how we are doing, if we are learning, and what they can do to help.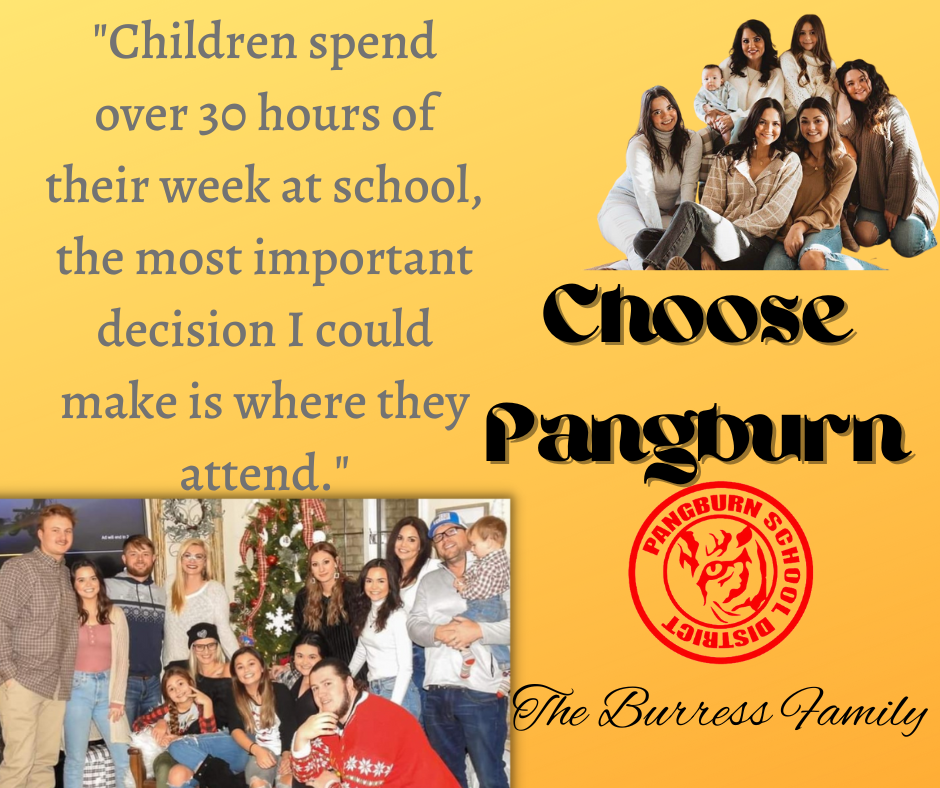 By The Burress Family
"Our family moved to Pangburn School District when my oldest child was in fourth grade. We consist of your's, mine, and ours. After the first semester it was evident that all our children would thrive at Pangburn and since then we have had 7 of our 9 graduate as a Tiger. We still have two more to go and we all call them the littles. Not one day have I regretted making that decision and have been thankful for teacher and faculty that have taught and inspired our kids over the decade.
Children spend over 30 hours of their week at school, the most important decision I could make is where they attend. I want my children to be surrounded with like minded people. I want my kids to feel their school experience is happy. I want my kids to feel seen and I want my kids to feel safe. I believe teachers and staff do all they can to make this reality. We all know that every child has different needs and interest and through the years, Pangburn School District has always met the challenges for each one of our children.
I love that the athletic program is solid. I love that I have the ability anytime to reach out to a teacher with any concern I may have. I love the advisory program. Every student in the 7th grade and up get assigned an advisor. From the 9th grade and up that advisor sticks with them until graduation. I can't say enough about how well this works for the students and parents. I also love that the community service is expected from the students. Through different clubs teachers make community involvement fun and shows students the power of being involved and giving back. Lastly, I love that the school allows students to feel free to express their worship openly and that opportunities to express their faith is always welcomed.
I've said many times, Pangburn School District is very much like a private school without paying the tuition. I'm grateful for all of our teachers."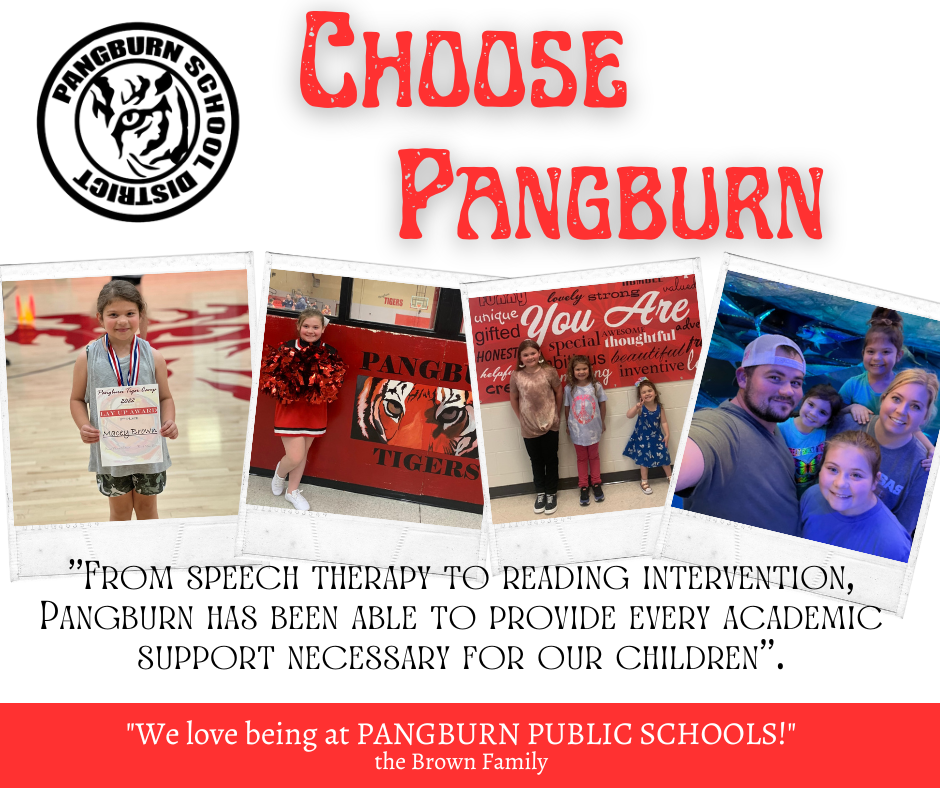 "From the first year we decided to choose Pangburn schools, we have felt so welcomed! We were brought in with open arms, and it is our home now. Our girls are thriving here! From speech therapy to reading intervention, Pangburn has been able to provide very academic support necessary for our children. We have loved all of the teachers and staff, as they go above and beyond to make sure the student's needs come first. Our daughters enjoy playing basketball and being on the cheer team. We love going to the games and supporting OUR TIGERS! There are so many extra curricular activities to choose from. We love being at PANGBURN PUBLIC SCHOOLS!"
The Brown Family: Jeremy, Haley, Avery, Macey and Gracelynn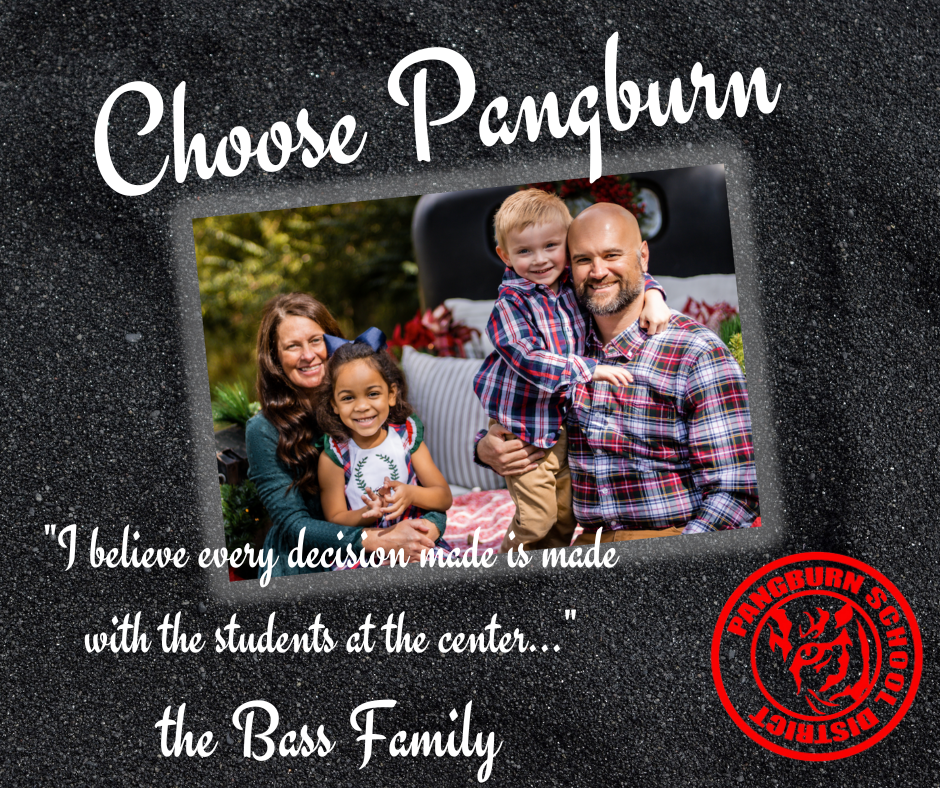 Why Choose Pangburn
"I love the small school setting and the willingness of every teacher to do what is best for every student. I believe every decision made is made with the students at the center and feel like each staff member treats each child the way they would want their own child treated."
By: Amber Bass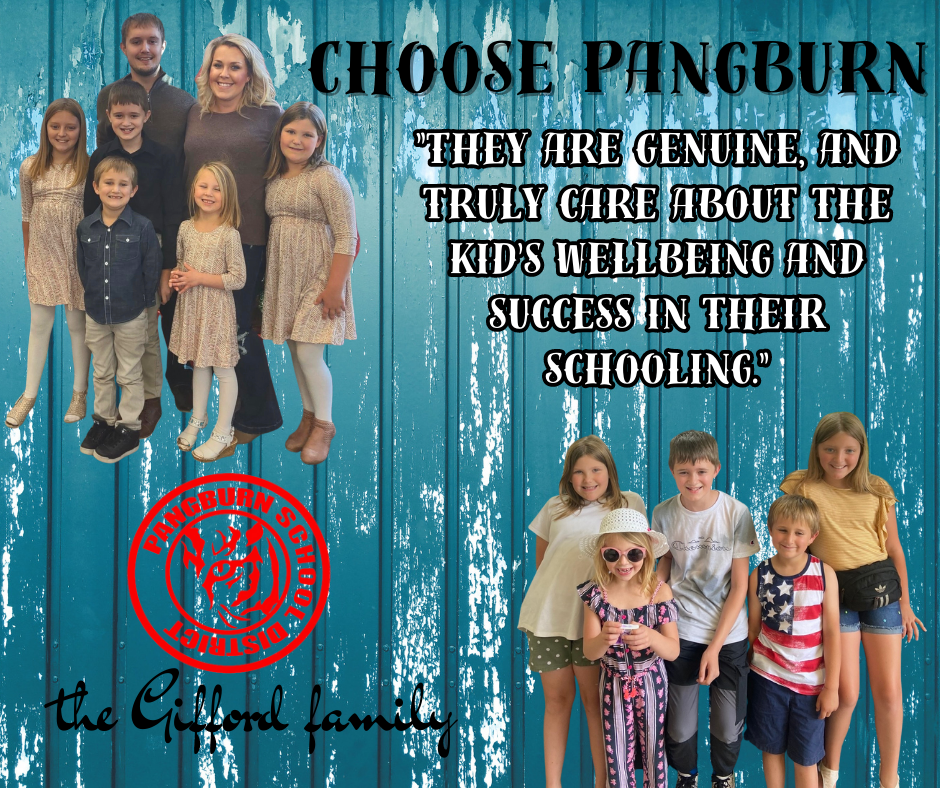 By:Kira Gifford
"Ever since switching our kids to Pangburn school district, we have ALL felt sincerely welcomed, and my kids have felt greatly loved! Especially on day one! The staff will go out of their way to help you with any issue that you need resolved, and they are even quick to do so. The are GENUINE, and truly care about the kid's wellbeing in their schooling. We can honestly say within the two years our kids have been in Pangburn school district, we haven't had any true complaints! Pangburn makes school fun, in many more ways than one!"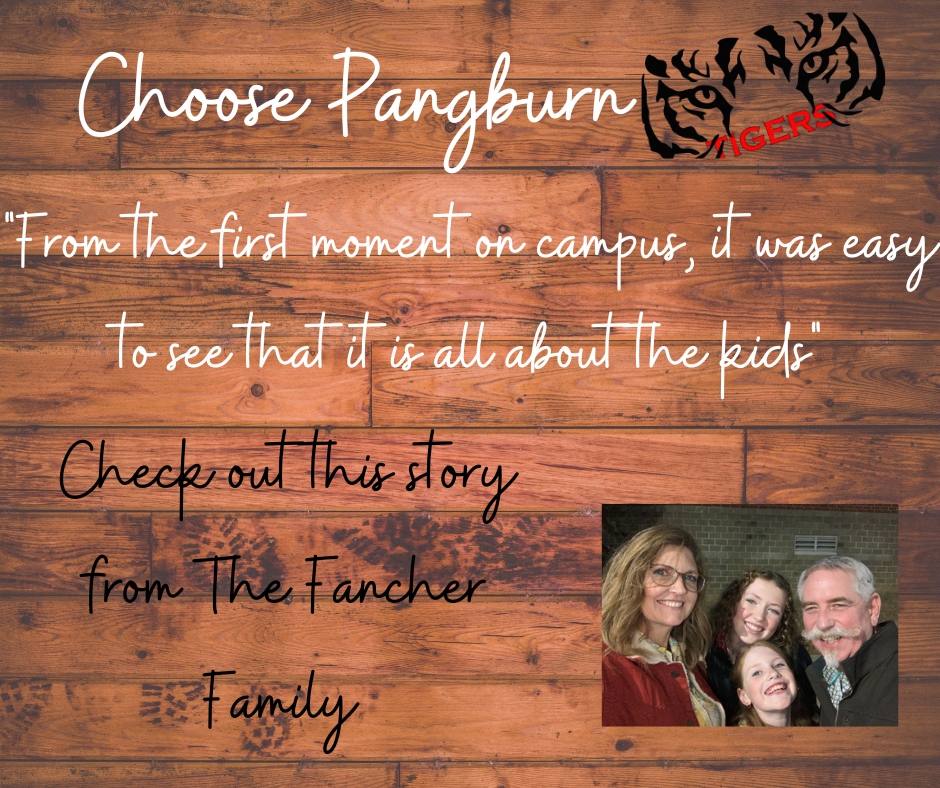 "From our first moment on campus, it was easy to see that it is all about the kids. The students of Pangburn Schools are never treated as an inconvenience, or a bother, or a waste of effort. These kids are recognized as young people, respected for their ideas, feelings, and abilities. Staff and students work together, with the goal in mind of continuing a community. A people that are expected to get along, work through their difficulties, and grow to be compassionate and capable members of society. With plenty of emphasis on academics, our kids testing scores continue to increase, and they come home excited to tell about what they have learned in class. Kids are encouraged to try new things, even if they aren't sure of success. The attitude from teachers and staff is "that's why we're here!" Each child is received as an individual with potential for great growth."
"Thanks for having us"
The Fancher Family-Heath, Sarah, Dlyna, and Amelia
It's a great day to be a Tiger!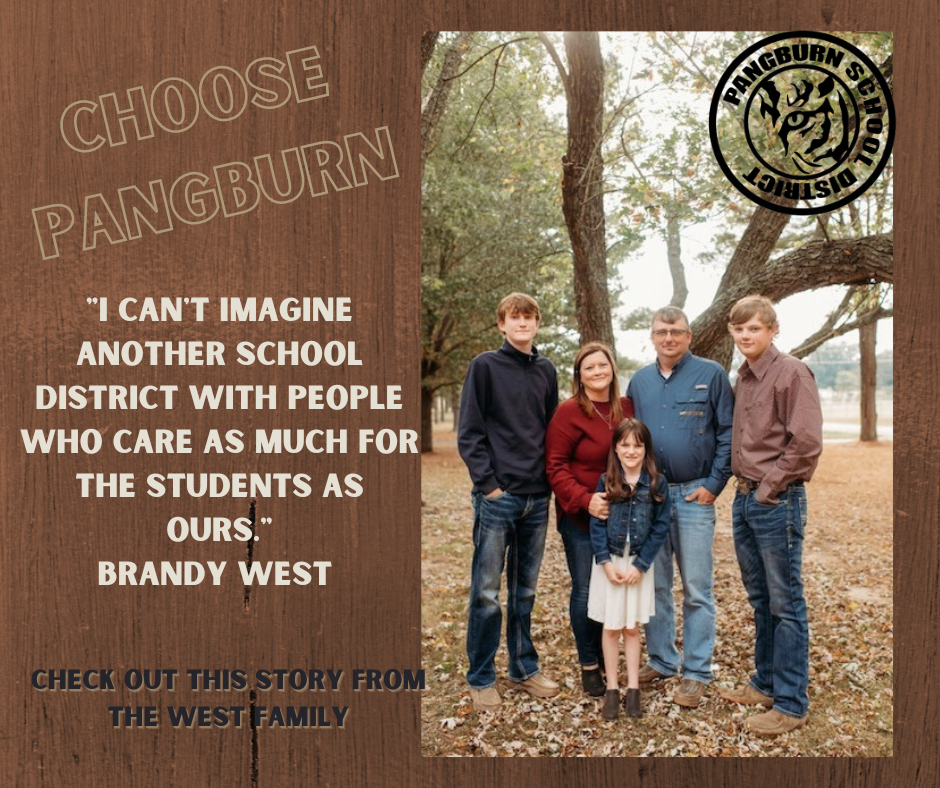 From Brandy West
"I can't imagine another school district with people who care as much for the students as ours. We have experienced this with our administration, teachers, coaches, and support staff. They often refer to students as "their kids" and proudly treat them as such.
The passion that each staff member has for education and the students has been instrumental in keeping the kids energized and engaged throughout the day. It also lends to identifying the individual learning style of the student and, I believe, has been critical to the success of our children in school.
Our family is proud to be part of the Pangburn School District!"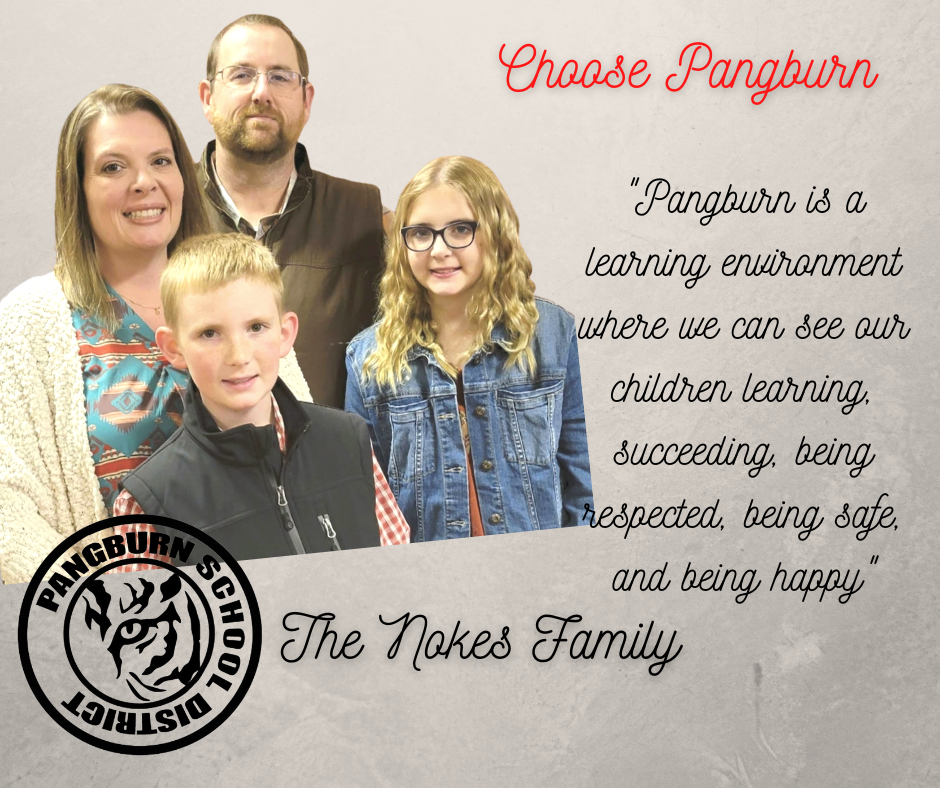 "Why our family chose to school choice to Pangburn School District:
We chose Pangburn because it felt like home to us. We knew Matthew and Emma would be able to grow and develop, not just academically, but in all aspects of life. Pangburn is a learning environment where we can see our children learning, succeeding, being respected, being safe, and being happy. We are very pleased with all the teachers and staff at Pangburn School District. They've made our family feel like our children matter. They're not just a number in a school district."
Tracy Nokes and the Nokes Family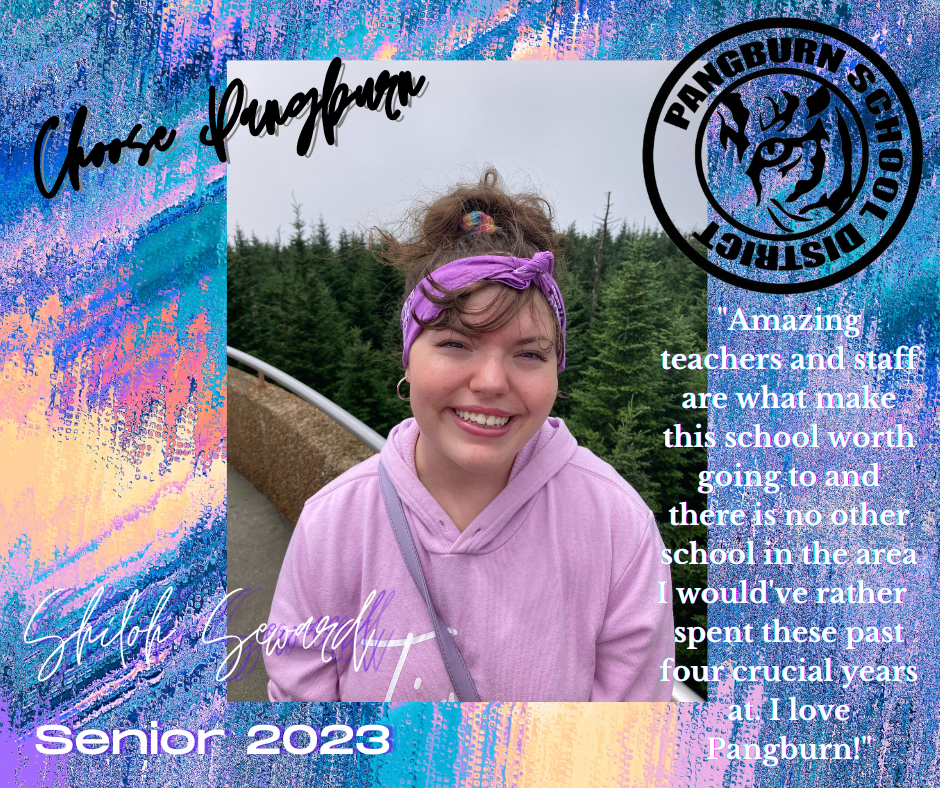 By Senior Student Shiloh Seward
Why Pangburn?
"During the summer before my freshman year, I moved to Pangburn because it was a School of Innovation, which meant I could take extra classes to explore what I was interested in. I was absolutely terrified of the new change but also super ecstatic about a fresh start in a new place. Even before my mom and I were completely moved in, I felt like we were already part of the community. I was immediately invited to things like community service projects, team camps, and town summer activities. I couldn't wait for school to start so I could make new friends and get to know my teachers.
Now I am a senior getting ready to graduate from Pangburn and I am so grateful for everything Pangburn has offered me throughout my four years of high school. Everyday when you walk through the doors, you are greeted with familiar friendly faces, and the teachers and staff continuously make efforts to talk to you, get to know you, and support you throughout your journey at this school. Throughout my time here, I've gotten extremely close with several of my teachers, and even staff members that I've never had. My advisor, Mrs. Ashley Horne, has helped me, supported me, and has truly loved me during my four years here. Amazing teachers and staff are what make this school worth going to and there is no other school in the area I would've rather spent these past four crucial years at. I love Pangburn."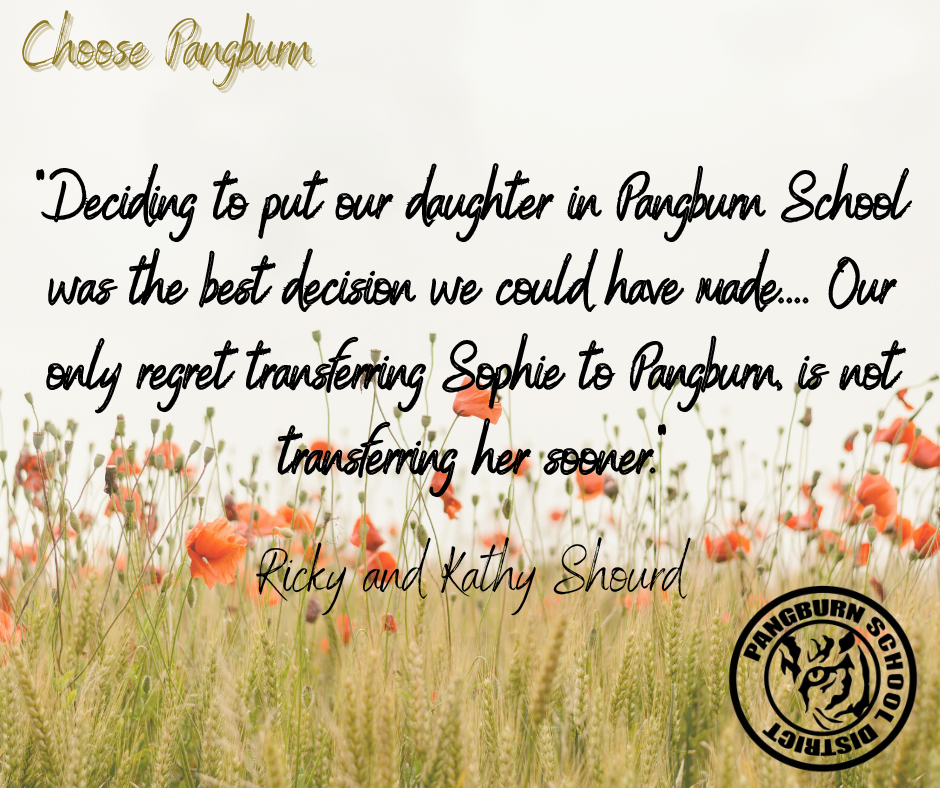 "Deciding to put our daughter in Pangburn School was the best decision we could have made. Sophie transferred from Harding Academy to Pangburn at the beginning of her eighth grade year. Everyone was great! Everyone was extremely helpful and did everything possible to make the transition to a new school go smoothly.
We have had people tell us, students do not do as well academically coming from a small school. Statistics have proven otherwise. Larger schools have more kids, not smarter kids. At Pangburn, all students are encouraged to do their best, not only the top 10%. Teachers are always eager to help one on one if needed.
We could list several examples of how much faculty care about the students. Not just certain students, but all students. Most schools have some students who cannot afford to participate in school activities or sports. Many times, teachers at Pangburn have paid fees out of their own money for students allowing them to participate. This was done out of kindness, not for recognition. Pangburn Schools is not labeled a "Christian school", but public schools have Christian teachers. That's what's important. We have found that certainly to be true at Pangburn. Not just christian in name, but Christ-like in actions.
Our only regret transferring Sophie to Pangburn is not transferring her sooner. "
Ricky and Kathy Shourd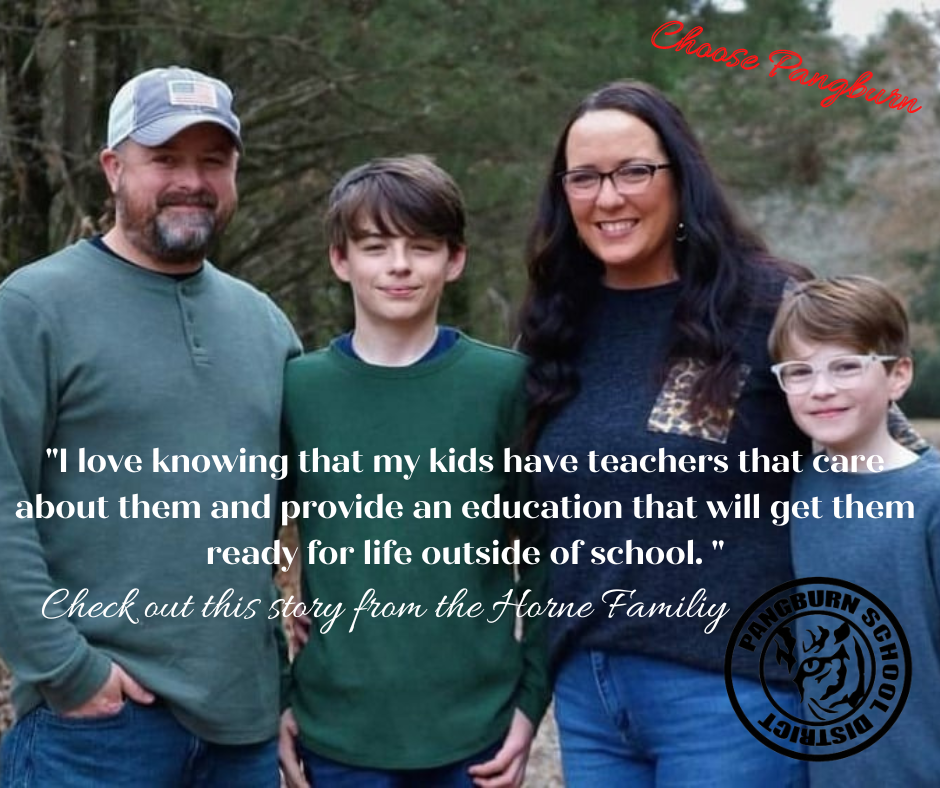 "Hi, my name is Ashley Horne; I am a paraprofessional at the Pangburn high school. I have two boys: Ryan, who is in 9th grade and Levi, who is in 6th grade. My husband Allen and I decided to send Ryan to Pre-K at Pangburn since our friend, Kelly Davis, worked in the Pre-K program. We quickly decided that we would stay in the Pangburn School District, so we made the decision to fill out the freedom of choice papers. We knew that Pangburn would provide the environment that we wanted for our children: a smaller district dedicated to helping them if they needed extra help and teachers/staff that would help them get the best education and also care for them while they were at school.
While I have not worked here the entire time they were at school, I did start by subbing when Levi started Pre-K and I have loved being here since then. It has been an honor to watch so many students start their journey at high school and then be there when they graduate. I also love watching so many students connect with various staff members and the impact that they have on each other. From a staff member perspective, I love being able to see the students succeed and continue their life outside of school. As a parent, I love knowing that my kids have teachers that care about them and provide an education that will get them ready for life outside of school."
Ashley Horne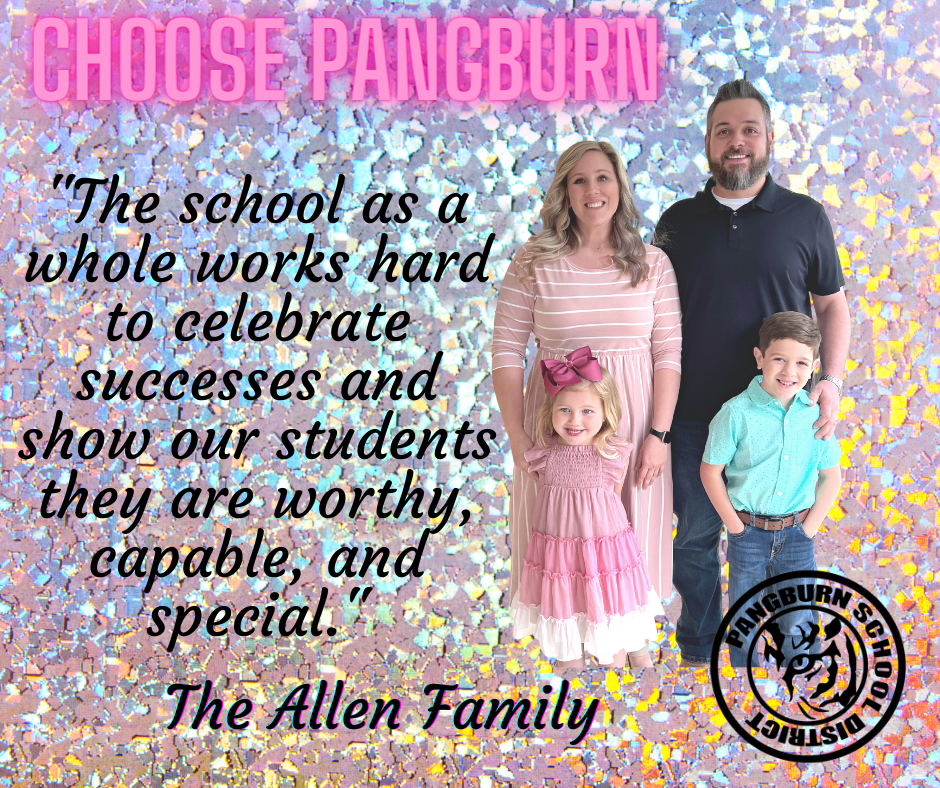 By Melissa Allen
"I have the privilege of not only experiencing Pangburn School District from a parent point of view but also an employee point of view. This is my eleventh year teaching at Pangburn Elementary School. From an inside perspective, I see the love that is poured into our students daily. The teachers go above and beyond to meet the needs of our students. They are constantly learning and growing as teachers and thinking outside the box when providing students with instruction. The school as a whole works hard to celebrate successes and show our students they are worthy, capable, and special. The administration does a phenomenal job of supporting and trusting our teachers to do what is best for our students and school.
As a parent, I find comfort in knowing that my children are at a school where they are not just a number. I know they are not being taught blanket lessons to an entire class filled with students of varying levels or learning styles. The teachers work hard to personalize the learning for each student to ensure that each child is getting exactly what they need to be successful. I couldn't imagine my children attending school anywhere else."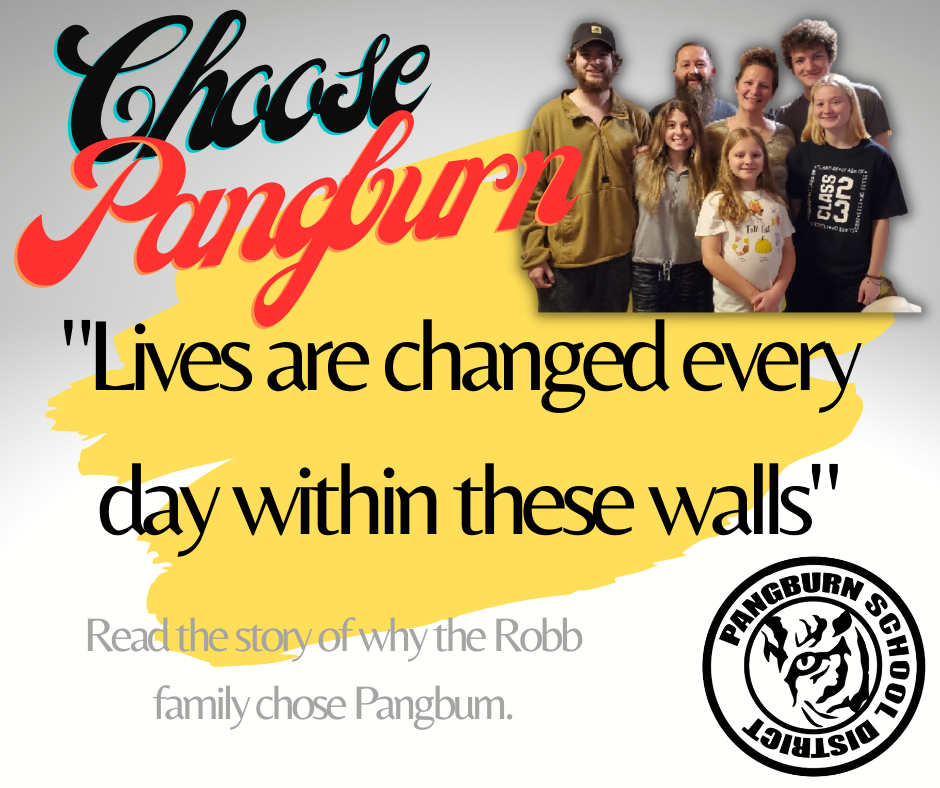 By Patricia Robb
"Our family moved here about 7 years ago. Before we decided which school our kids would attend, we toured both Heber and Pangburn schools. Fortunately, we had the opportunity to choose which one fit our family best. When we toured Pangburn, it was evident that this was where we wanted our kids to be. Our first meeting was with Mrs.Butler at the high school and she was so warm and welcoming. The School of Innovation model was explained in such a way that we knew our children, who don't necessarily fit the mold of a traditional student, would excel here. And they have! The staff and administration are solid and we truly appreciate the dedication to the success of every student's success. Now that I am an employee of the district I can see from the inside how hard each staff member works and cares for these students daily. Lives are changed every day within these walls, and I am so glad to be a small part of it."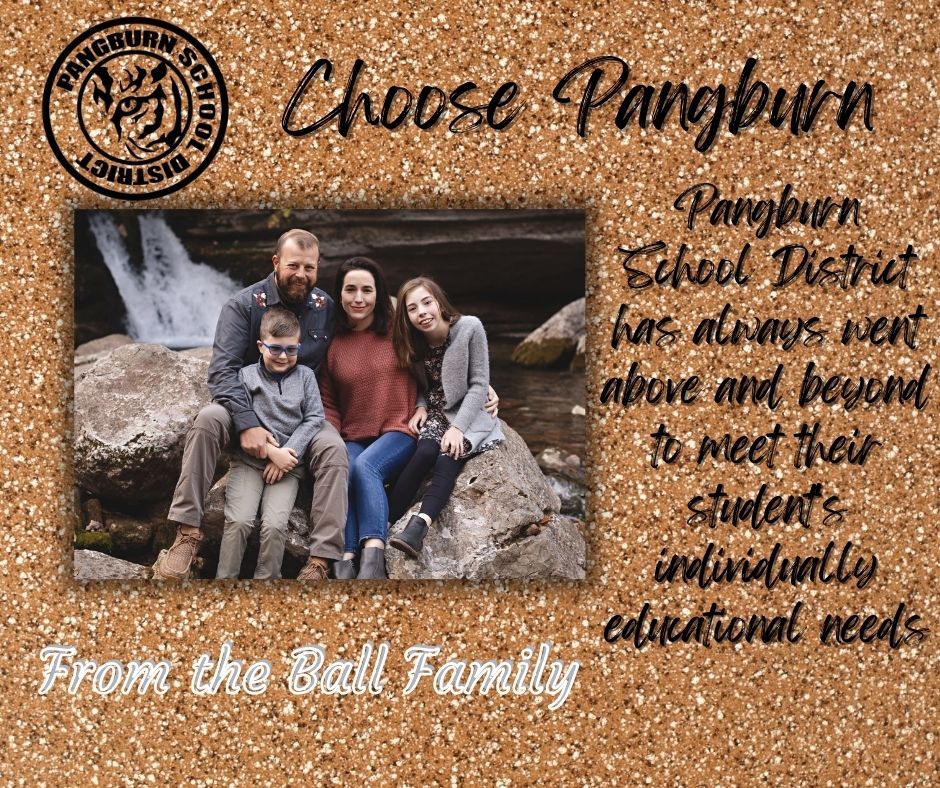 From Karen Ball
"Pangburn School District has always went above and beyond to meet their student's individual educational needs. The entire team works tirelessly to provide a safe place for our kids to grown. I cannot thank them enough for what they have done for our family. "