Testimonials-Choose Pangburn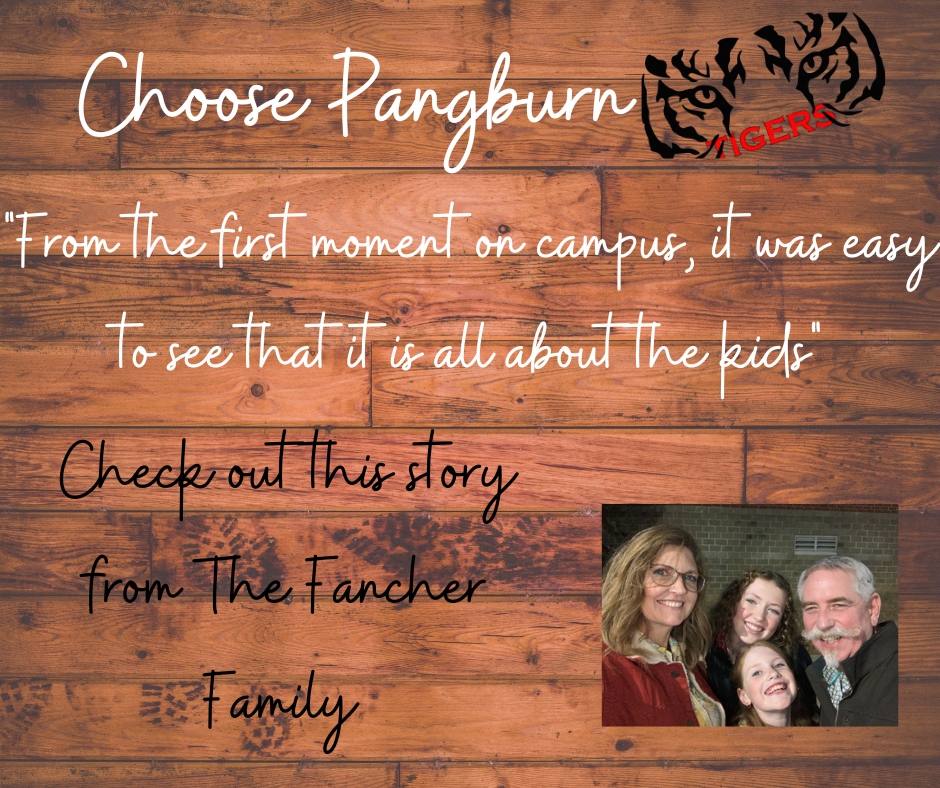 "From our first moment on campus, it was easy to see that it is all about the kids. The students of Pangburn Schools are never treated as an inconvenience, or a bother, or a waste of effort. These kids are recognized as young people, respected for their ideas, feelings, and abilities. Staff and students work together, with the goal in mind of continuing a community. A people that are expected to get along, work through their difficulties, and grow to be compassionate and capable members of society. With plenty of emphasis on academics, our kids testing scores continue to increase, and they come home excited to tell about what they have learned in class. Kids are encouraged to try new things, even if they aren't sure of success. The attitude from teachers and staff is "that's why we're here!" Each child is received as an individual with potential for great growth."
"Thanks for having us"
The Fancher Family-Heath, Sarah, Dlyna, and Amelia
It's a great day to be a Tiger!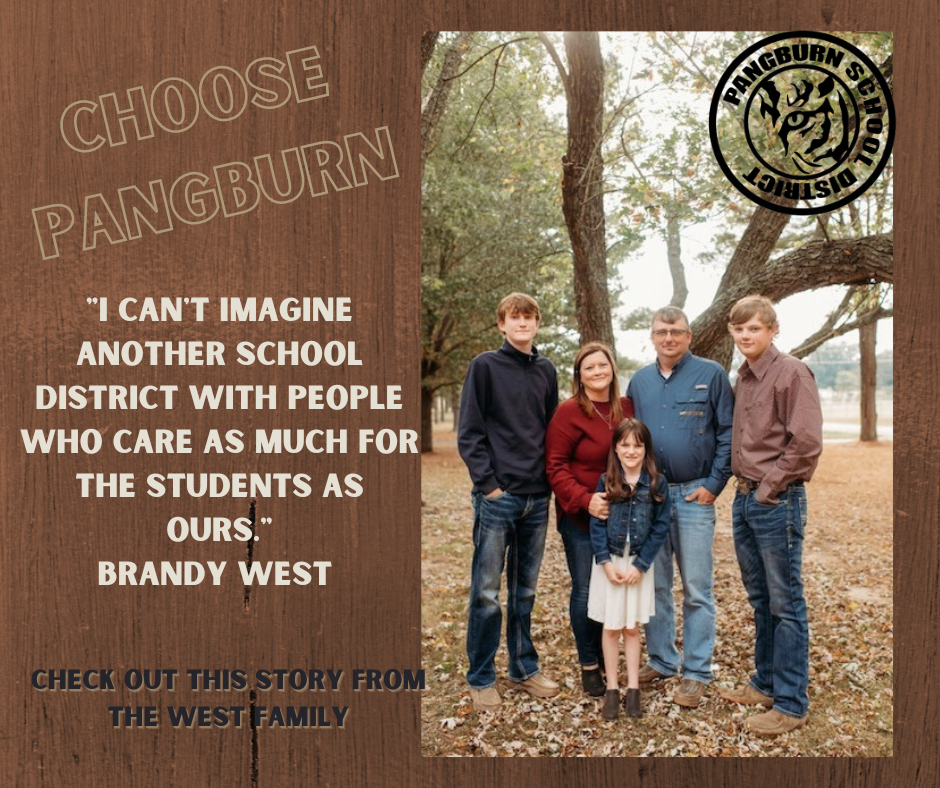 From Brandy West
"I can't imagine another school district with people who care as much for the students as ours. We have experienced this with our administration, teachers, coaches, and support staff. They often refer to students as "their kids" and proudly treat them as such.
The passion that each staff member has for education and the students has been instrumental in keeping the kids energized and engaged throughout the day. It also lends to identifying the individual learning style of the student and, I believe, has been critical to the success of our children in school.
Our family is proud to be part of the Pangburn School District!"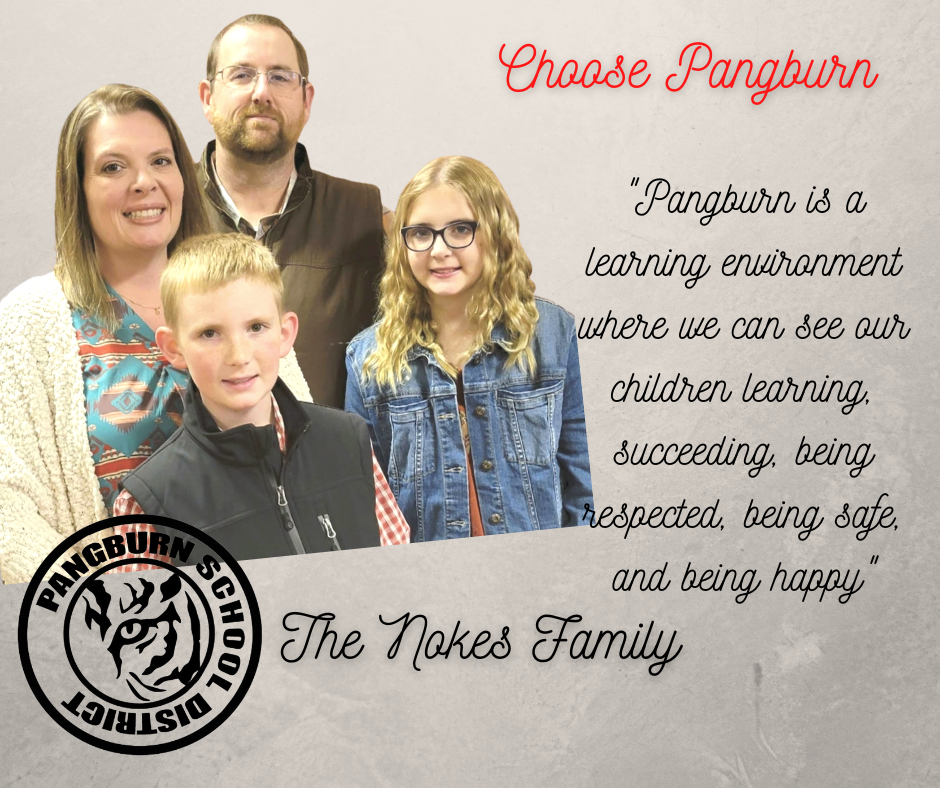 "Why our family chose to school choice to Pangburn School District:
We chose Pangburn because it felt like home to us. We knew Matthew and Emma would be able to grow and develop, not just academically, but in all aspects of life. Pangburn is a learning environment where we can see our children learning, succeeding, being respected, being safe, and being happy. We are very pleased with all the teachers and staff at Pangburn School District. They've made our family feel like our children matter. They're not just a number in a school district."
Tracy Nokes and the Nokes Family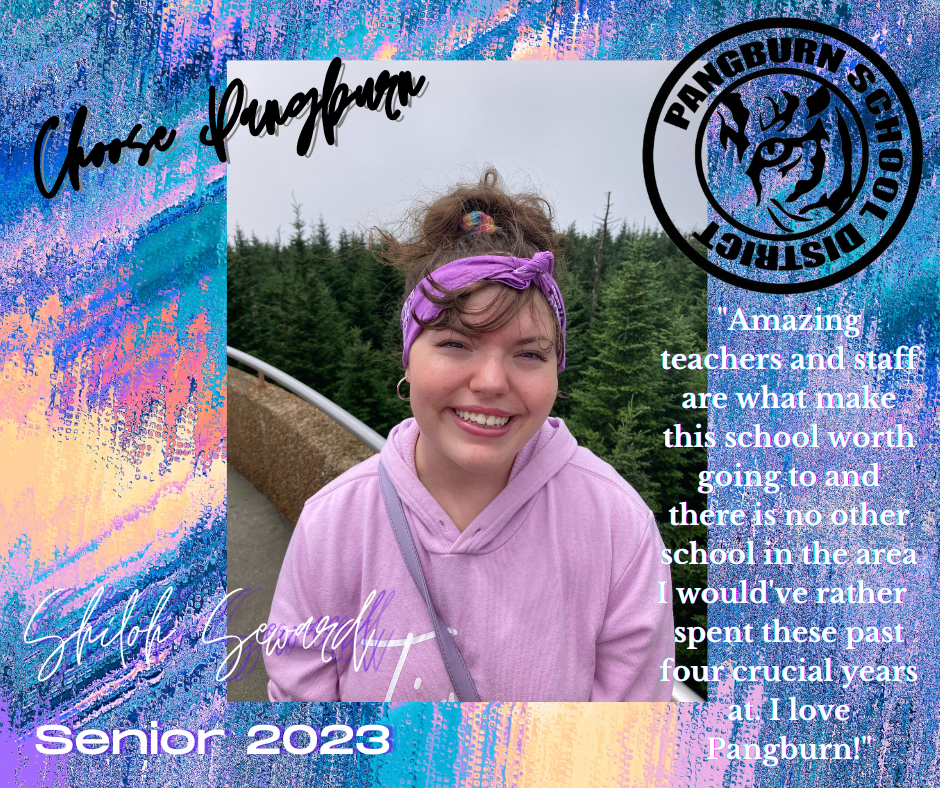 By Senior Student Shiloh Seward
Why Pangburn?
"During the summer before my freshman year, I moved to Pangburn because it was a School of Innovation, which meant I could take extra classes to explore what I was interested in. I was absolutely terrified of the new change but also super ecstatic about a fresh start in a new place. Even before my mom and I were completely moved in, I felt like we were already part of the community. I was immediately invited to things like community service projects, team camps, and town summer activities. I couldn't wait for school to start so I could make new friends and get to know my teachers.
Now I am a senior getting ready to graduate from Pangburn and I am so grateful for everything Pangburn has offered me throughout my four years of high school. Everyday when you walk through the doors, you are greeted with familiar friendly faces, and the teachers and staff continuously make efforts to talk to you, get to know you, and support you throughout your journey at this school. Throughout my time here, I've gotten extremely close with several of my teachers, and even staff members that I've never had. My advisor, Mrs. Ashley Horne, has helped me, supported me, and has truly loved me during my four years here. Amazing teachers and staff are what make this school worth going to and there is no other school in the area I would've rather spent these past four crucial years at. I love Pangburn."